Hamas tells Israel it will not surrender captured soldier  (Telegraph.uk.co)
Hamas has told Israel that it will not succumb to pressure to release a captured soldier, Gilad Shalit, in return for peace in Gaza.
The warning came as the Islamist group, which rules Gaza, launched a direct appeal to President Barack Obama.
A letter left at the gatehouse of a United Nations compound in Gaza addressed to Mr Obama was believed to contain a broad statement of the group's demand to be included in the Middle East peace process. It was handed to Senator John Kerry, who visited the beleagrued strip of Palestinian territory on Thursday.
(Read the complete story...)
Karzai, Pelosi talk counter-terrorism, reconstruction
KABUL, Afghanistan (CNN) -- House Speaker Nancy Pelosi told Afghan President Hamid Karzai America's "new strategy" in Afghanistan will focus on reconstructing the war-battered country and maintaining strong counter-terrorism measures, his office said.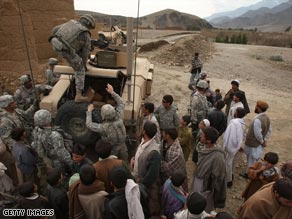 Members of the U.S Army 1-6 Field Artillery division
distribute aid to villagers in Tupak, Afghanistan Saturday.
Karzai's office passed along a statement with details of a meeting Saturday between Karzai and a Pelosi-led congressional delegation visiting Afghanistan.
Both sides discussed bilateral relations, counter-terrorism strategy, Afghan-U.S. bilateral relations, counter-terrorism strategy, economic improvements, and America's long-term security commitment to the country.
"Ms. Pelosi during the meeting said that the process of democracy in Afghanistan was on the right track and she assured President Karzai that the new American strategy for Afghanistan, which also has the views of the Afghan government included, will consider every necessary measure for a better coordination of the counter-terrorism effort in the region and have achievable goals.  (Read Complete Story...)
US to prod Syrian envoy on terrorism, nukes  (AP Feb 21 2009)
WASHINGTON (AP) — The State Department is reaching out to Syria to discuss U.S. allegations that the Arab country supports terrorist groups and is pursuing nuclear weapons, a department official said Friday.
A meeting with the Syrian ambassador scheduled for next week at the State Department will be the first such session since September and reflects Secretary of State Hillary Rodham Clinton's interest in talking directly with Syria and other countries at odds with the U.S., spokesman Gordon Duguid said. (Read complete story...)
It's been an interesting week all over.  Your comments are always appreciated.