Arlington VA February 11, 2016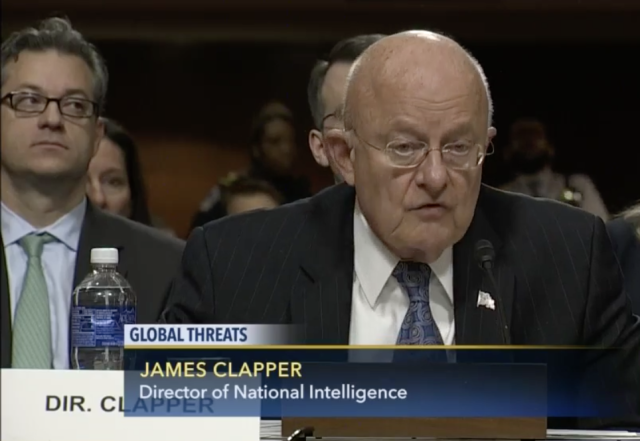 James Clapper, US director of National Intelligence (DNI) was on Capital Hill on Tuesday, shaking his sword that other governments are likely to employ newer technologies as spy tools, including the IoT, and that prospect carries with it to potential for added global instability, which is already radically changing, due in part by increased outbreaks of infectious disease, hunger, climate change, and other non-military-related occurrences.Addressing both the
Senate Armed Services Committee and the Senate Select Committee on Intelligence, Clapper provided some very interesting testimony on the potential forother governments weaponizing the IoT, although he named no names during his testimony at either committee. Interestingly, he did not directly discuss potential US use of the IoT, although a recent study by Harvard University came out directly making that suggestion.

"Smart devices incorporated into the electric grid, vehicles—including autonomous vehicles—and household appliances are improving efficiency, energy conservation, and convenience," said Clapper in his prepared testimony. "However, security industry analysts have demonstrated that many of these new systems can threaten data privacy, data integrity, or continuity of services. In the future, intelligence services might use the loT for identification, surveillance, monitoring, location tracking, and targeting for recruitment, or to gain access to networks or user credentials," Clapper continued in his statement (click for the complete prepared testimony).
Much of  what Clapper said is probably true; it is very possible for the IoT to become an involuntary spy threat. His implication is that is 'they' do it, we might as well be ahead. After all, with climate change the principal cause of everything from terrorism to bad breath (as far as this administration is concerned), we have a pressing need to spy on everybody in every way we can.
It will be interesting to see where this leads. If Clapper is saying we 'might' do it in the future, you can be sure that we probably are already working on it. The computer chip in your car could become a listening device, as could your home blood pressure machine, or even you glucose testing meter, with its built in memory and chip for transmitting data.
I do not wish to disparage legitimate intelligence gathering. We need those capabilities, but this administration at least, has proven that it wants data on everyone, everything they can get, and they expect the people to simply accept that as a way of life. Every good socialist should be accepting of that premise.
personally, I will wait and see what happens.